PUBLICATIONS BY SANDY ADIRONDACK
The Russell-Cooke Voluntary Sector Legal Handbook
The Good Governance Action Plan for Voluntary Organisations
---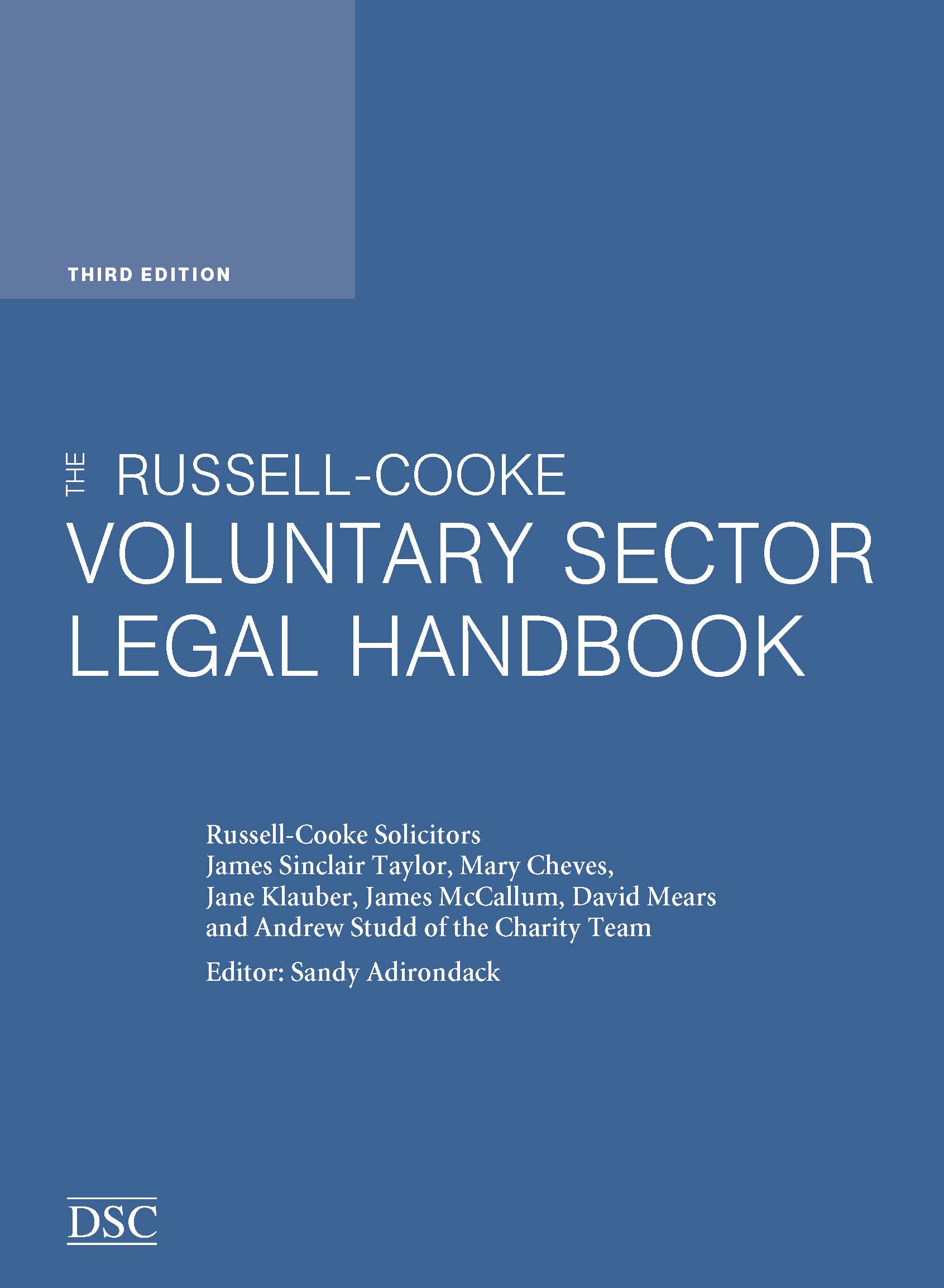 THE RUSSELL-COOKE
VOLUNTARY SECTOR LEGAL HANDBOOK
James Sinclair Taylor and the Charity Team at Russell-Cooke Solicitors.
Edited by Sandy Adirondack.

Directory of Social Change, 3rd edition, September 2009. 1st & 2nd editions were called The Voluntary Sector Legal Handbook.
1050 pages. ISBN 978 1 903991 87 9
Voluntary organisations £60, others £90 from Sandy Adirondack, bookshops or Directory of Social Change.

To order see books by post.

65 chapters covering virtually everything you need to know about the law as it affects charities, community groups and other voluntary organisations
With updated information at Sandy's legal update website for voluntary organisations and the legal handbook archive, and from Russell-Cooke Solicitors at www.rclh.co.uk


The organisation: 1 Setting up an organisation; 2 Unincorporated organisations; 3 Incorporated organisations; 4 Charitable status, charity law and regulation; 5 The organisation's objects; 6 The organisation's name; 7 The governing document; 8 Registering as a charity; 9 Branches, subsidiaries and group structures; 10 Changing legal form; 11 Collaborative working, partnerships and mergers.

Governance: 12 Members of the organisation; 13 Members of the governing body; 14 Officers, committees and sub-committees; 15 Duties and powers of the governing body; 16 Restrictions on expenses, payments and benefits; 17 The registered office and other premises; 18 Communication and paperwork; 19 Meetings, resolutions and decision making; 20 Assets and agency; 21 Contracts and contract law; 22 Risk and liability; 23 Insurance; 24 Financial difficulties and winding up

Employees, workers, volunteers and other staff: 25 Employees and other workers; 26 Rights, duties and the contract of employment; 27 Model contract of employment; 28 Equal opportunities in employment; 29 Taking on new employees; 30 Pay and pensions; 31 Working time, time off and leave; 32 Rights of parents and carers; 33 Disciplinary matters, grievances and whistleblowing; 34 Termination of employment; 35 Redundancy; 36 Employer-employee relations; 37 Employment claims and settlement; 38 Self employed workers and other contractors; 39 Volunteers

Services and activities: 40 Health and safety; 41 Safeguarding children and vulnerable adults; 42 Equal opportunities in provision of goods, services and facilities; 43 Data protection and information security; 44 Intellectual property; 45 Publications, publicity and the internet; 46 Campaigning and political activities; 47 Public gatherings, entertainment and licensing

Funding and fundraising: 48 General rules; 49 Fundraising activities; 50 Tax-effective giving; 51 Social enterprise and trading; 52 Contracts and service agreements

Finance: 53 Financial procedures and security; 54 Annual accounts, reports and returns; 55 Auditors and independent examiners; 56 Corporation tax, income tax and capital gains tax; 57 Value added tax; 58 Investment and reserves; 59 Borrowing

Property: 60 Land ownership and tenure; 61 Acquiring and disposing of property; 62 Business leases; 63 Property management and the environment

Background to the law: 64 How the law works; 65 Dispute resolution and litigation
---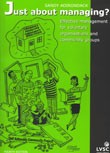 JUST ABOUT MANAGING?
EFFECTIVE MANAGEMENT FOR VOLUNTARY ORGANISATIONS AND COMMUNITY GROUPS
Sandy Adirondack
London Voluntary Service Council, 4th edition, 2006.
231 pages. ISBN 1 872582 86 9.
£25 from Sandy Adirondack, bookshops or London Voluntary Service Council.
To order see books by post.
Widely regarded as "the voluntary sector's management bible" since it was first published in 1989, JAM covers:
Governance and management
Managing in the voluntary sector
Management committees/trustees
Managing legal responsibilities (new chapter in 4th edition)
The good enough manager
Dealing with not-yet good enough management

Managing communication and decision-making
Managing teamwork and involvement
Managing meetings
Managing communication and reports

Managing people
Managing staff recruitment and selection
Managing people and their work
Managing training and learning
Managing differences and conflict
Managing stress

Planning, doing and evaluation
Managing the planning process
Managing risk (new chapter in 4th edition)
Managing change
Managing performance indicators
Managing monitoring and evaluation

Managing external relationships
Managing contracts and service agreements
Managing partnerships (new chapter in 4th edition)

Managing day to day
Managing policies and practice
Managing time
Managing finance
Managing information and administration

Just About Managing? has been published
in Catalan as Direccio i gestio de les organitzacions de voluntaris (Barcelona City Council, 1994)
in Hungarian as Mindennapi Receptek Civil Szervezeteknek: Kezikonyv nonprofit vezetoknek (Non-profit Information and Training Centre Foundation (NIOK), Budapest, 1999)
in Romanian as Managementul Pur si Simplu? Management eficient pentru organizatii neguvernamentale (Civil Society Development Foundation, Bucharest, 1999)
in Serbian as Sve o Upravljanju (Civic Initiatives, Belgrade, 2000). Parts have also been translated into Azeri (the language of Azerbaijan) by ISAR in Baku, it is currently being translated into Bulgarian and Portuguese, and discussions are taking place about translation into Russian.
---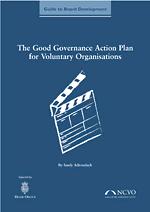 THE GOOD GOVERNANCE ACTION PLAN
FOR VOLUNTARY ORGANISATIONS
Sandy Adirondack
National Council for Voluntary Organisations, 2002.
37 pages. ISBN 0 7199 1603 8
This went out of print in late 2009, and NCVO has no plans to reprint. I am discussing with them whether I can make it available as a PDF.
An easy-to-use tool to help management committees/boards of trustees increase their effectiveness in 13 areas:
Board recruitment, support and development
Discussion, decision-making and delegation
Effective meetings
Vision, values and quality
Planning and prioritising
Finance and internal audit
Duties of the company secretary
Being a good employer
Board/staff relations
Chair/chief executive and treasurer/finance director relations
Assessing and managing risk
External relations
Developing a board code of practice.
This publication replaced The Good Governance Action Plan for Small Voluntary Organisations (NCVO 1999) and The Good Governance Action Plan for Medium and Large Voluntary Organisations (NCVO 2000).
---
OUT OF PRINT PUBLICATIONS
These publications are no longer available but can usually be borrowed from Sandy Adirondack.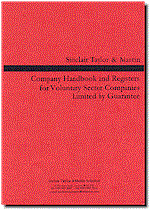 SINCLAIR TAYLOR & MARTIN
COMPANY HANDBOOK AND REGISTERS
FOR VOLUNTARY SECTOR COMPANIES LIMITED BY GUARANTEE

James Sinclair Taylor and Sandy Adirondack

Sinclair Taylor & Martin Solicitors, 1999, updated 2003.
192 pages.

Everything the company secretary needed, but not updated to include Companies Act 2006 and Charities Act 2006, so should no longer be used.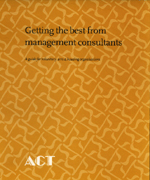 GETTING THE BEST FROM
MANAGEMENT CONSULTANTS
A GUIDE FOR VOLUNTARY, ARTS AND HOUSING ASSOCIATIONS

Sandy Adirondack for ACT

ACT (Association of Consultants and Trainers Ltd), 1998.
A short guide to help organisations develop good relationships with consultants and get the best for their organisation and the people it serves.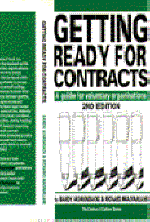 GETTING READY FOR CONTRACTS
A GUIDE FOR VOLUNTARY ORGANISATIONS
Sandy Adirondack and Richard Macfarlane
Directory of Social Change 1990, 2nd edition, 1993.
A very practical legal and technical guide to the shift from grant funding to service agreements and contracts.
GETTING READY FOR CONTRACTS
TRAINING PACK
Sandy Adirondack
Directory of Social Change and National Council for Voluntary Organisations, 1992.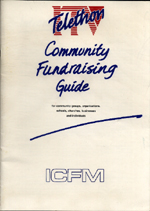 ITV TELETHON GUIDE TO COMMUNITY FUNDRAISING
Sandy Adirondack
ITV Telethon and Institute of Charity Fundraising Managers 1990, 2nd edition 1993.
SPEAKING OUR PEACE series
Edited by Sandy Merritt [now Adirondack]
Quaker Peace and Service, 1987-89.
Five booklets: Exploring nonviolence and conflict resolution, Facilitating meetings and workshops, Street campaigning, Presentations and workshops in schools, and Sharing skills with peace activists.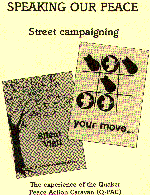 NONVIOLENCE IN ACTION: A DOOR IN THE WALL and
NONVIOLENCE IN ACTION: COMMON GROUND
Concord Video and Film Council, 1986.
Consultant for these two videos on projects and actions in areas of conflict (Newham, South Africa, Israel/Palestine, Philippines, Nicaragua, Greenham Common, Molesworth), and author of related training materials.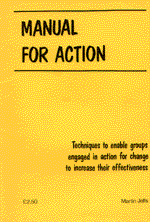 STARTING POINTS: THINKING ABOUT CONFLICT
Concord Video and Film Council, 1983.
Consultant for these three short films on conflict resolution for young people, and author of related training materials.
MANUAL FOR ACTION
TECHNIQUES TO ENABLE SOCIAL CHANGE GROUPS TO INCREASE THEIR EFFECTIVENESS
Martin Jelfs, edited by Sandy Merritt
Action Resources Group, 1982.
Dozens of ideas to help groups work more effectively.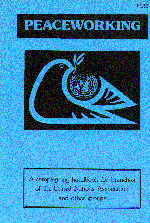 PEACEWORKING
A CAMPAIGNING GUIDE FOR LOCAL GROUPS
Sandy Merritt
United Nations Association, 1981.
A practical guide on how to make a big impact with limited resources.
---